Where They Can
Posted: 11/04/2014



In one neighborhood of Kirkuk, Northern Iraq, more than a hundred Iraqi families forced to leave their homes because of ongoing fighting, live cheek-by-jowl in two unfinished, unheated buildings. There's no privacy, no running water, no proper sanitation facilities and only open windows and unfinished staircases -- a certain hazard for the dozens of young children who run around.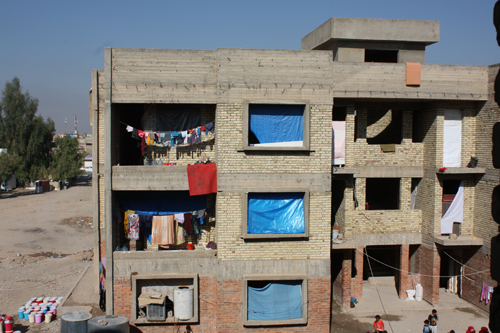 Displaced families are forced to shelter in unfinished,unheated buildings across northern Iraq

Many families have just moved here and today are receiving emergency hygiene kits funded by the European Commission's Humanitarian Aid and Civil Protection department, ECHO, and distributed by aid agency Mercy Corps and its local partner, FUAD (the United Foundation for Relief and Sustainable Development). The most vulnerable families will also soon receive cash to cover their basic needs, giving them the choice to decide their priority purchasing needs themselves.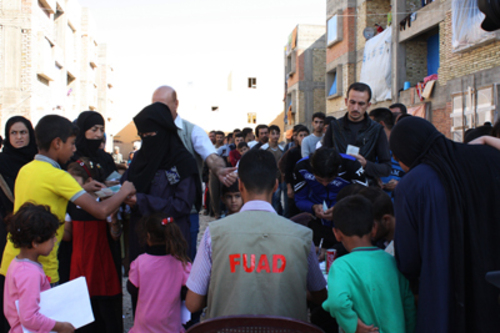 Distribution of emergency hygiene kits to displaced families

The families are just some of the estimated 171,000-plus people who have taken refuge in Kirkuk governorate after witnessing and suffering the fighting, shelling and destruction and death of relatives and friends in their home towns. Most left with just the clothes on their back. And while some have managed to rent homes others have sought shelter in public buildings like schools, which have been forced to delay re-opening for the new school year, mosques and half-finished buildings.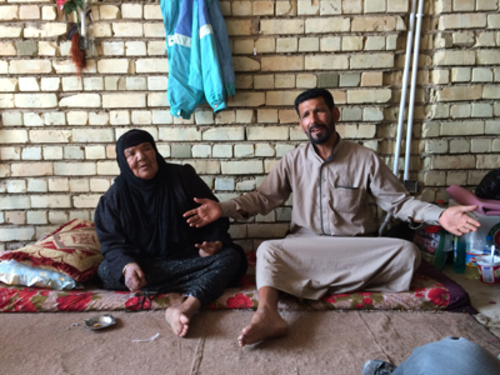 Adnan Abdul Aziz Salah

"If you compare our lives before and now, it's like the ground and the sky" said 43-year-old Adnan Abdul Aziz Salah, a father of eight, who worked as a taxi driver in Tikrit. He lives in one room in the unfinished building with his family and mother, where they cook and sleep. They've placed plastic sheeting around one window in an effort to keep out some of the cold.

"You can see we need health care, food, shelter... everything" said Abdul. "We have not received any help from our government, only from non-governmental organisations".

In another room, 56-year-old Fatayim Mohammed Hatab, says her four sons and many daughters were killed in clashes around their home in Sharqat district, Salah al-din, near Tikrit.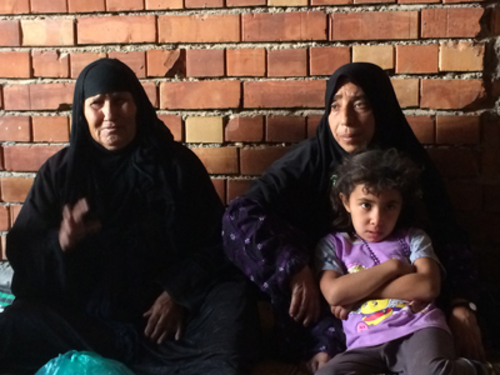 Fatayim Mohammed Hatab (left)

"We have no men now, no income, no support" she said, pointing to her remaining daughters and many young children. Her oldest grandson, Hammad, aged 12, manages to earn a little money for the family selling water and tissues on the street. But Fatayim is worried about how the family will cope, especially as winter approaches and temperatures can fall to below freezing.

Since June, Kirkuk, an ethnically diverse governorate where Arabs, Kurds and Turkmen live side-by-side, has seen a massive influx of families displaced by fighting in other areas of the country, including Anbar and Salah al-din governorates. The security in Kirkuk itself has also worsened, making it harder for agencies to reach many displaced and local families in need of assistance.

Across the country, it's estimated that 1.9 million people have been forced to flee their homes because of fighting, a number that is ever-increasing.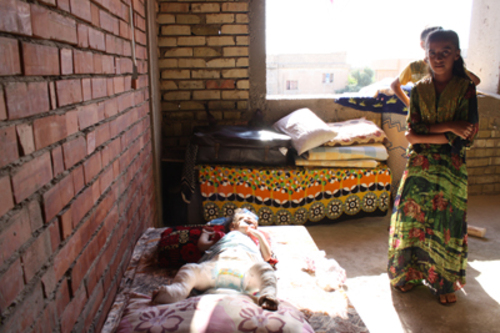 Desperate families are taking shelter where they can find it.

"The situation is likely to get worse," predicts Abdul Muneim Ahmed Hassan, executive director of FUAD. "The families cannot return to their original homes because there is still conflict. Winter is approaching, but they are living in very unsuitable places with very little protection against the weather."

The priority is to try to reach as many families as possible with help before winter fully sets in. There are plans to set up new camps in Kirkuk and other areas of Iraq to house displaced families. But it's going to be a race against time and the flow of displaced families shows no signs of slowing down.

For more on the story:

In pictures here.
For more stories about how the EU is helping in Iraq.
Conflict in Iraq Forces Families to Flee Their Homes and Seek Shelter